Cute historical novel.
Author
Arthur Golden
, American writer specialized in Japanese art.
Summary
Sayuri recalls her early childhood as Sakamoto Chiyo, a young girl growing up in the poor fishing village of Yoroido. Along with her older sister Satsu, she is sold and sent to an okiya in Kyoto's hanamachi by her elderly father and dying mother when she is just nine years old. Chiyo remains at the okiya for geisha training, but Satsu is rejected. Chiyo begins as maid working under Mother and Auntie, two older women who run the okiya. She becomes friends with the other young girl there, who she calls Pumpkin due to her round face. (source:
Wikipedia
)
Status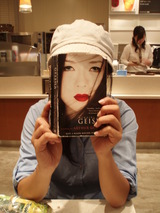 Nice picture featuring
the book I left behind
My second or third trip to
Ghana
, I took the plane from Schiphol and bought this book while I was waiting. It was a nice read, not too deep, quite easy going.
On my trip to Japan, I brought it along and left the book in the hands of Megumi. Some months later I saw
on her blog that she had passed it on
to Adam and Eva, a couple from L.A. that used
Hospitality Club
to plan their honeymoon.
Links